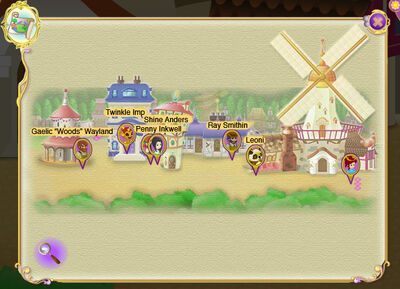 Artisans Way is an area in Bella Sara Adventures.
Characters
Gaelic "Woods" Wayland owns a woodwork shop where you can buy furniture for your cottage.
The Twinkle Imp is an imp with whom you can play a game once a day. The game is called Marvelous Magic Match. You choose up to five of the 9 boxes he shows you, and if you get three that match, you keep the item.
Penny Inkwell is a writer. She writes news articles for North of North.
Shine Anders is an artist in Artisans Way. She crafts jewelry out of shells. Shine also appears in two of the books in the Bella Sara series; "Jewel's Magic" and "Amia and the Ice Gems".
Ray Smithin is a blacksmith who can help you smith items for quests.
Leoni, who is a sort of cross between a panda and a squirrel, resides near an apothecary at the west end of Artisans Way.
Connected to