thumb|308px|link=File:Autumn10_800x600.jpg
Herd: Sunflower
Title: Seasonal Spirit
Appearance
Autumn is a burnt orange mare with autumn leaves in her mane. She's not just a beautiful horse, she's a force of nature. Her shadow is strewn with leaves that her friends, the Falltide Leafkins, play in. The leafy wind swirls around her, harnessing her to true, natural magic.
History and Magical Gift
Her job is to bring the dark and cold to Bella Sara, and to prepare the world for winter. When fall comes to North of North, Autumn solemnly rises from the Jasmine Forest. As she and her friends walk towards the warmth of summer, nuts are gathered, flowers are tucked away, seeds are planted for the spring, and falling leaves are collected. Where Autumn walks, cold wind blows and snow freezes the cold ground. Where the Falltide Leafkins scurry, plants and animals get sleepy and go dormant. For Autumn, the Falltide Leafkins turn her chore into an adventure.
Bella Sara Adventures
Her favorite food is maple.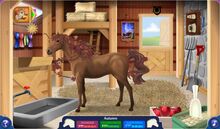 Inspirational Saying
"Finishing what you started gives you energy."