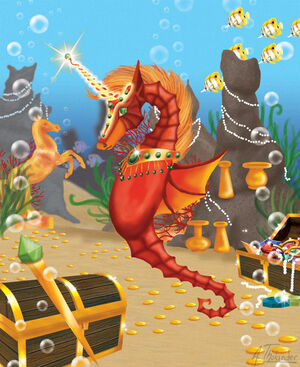 Herd: Islandar
Title: King of Herd Islandar
Family: Mate Edana, Filly Kora, Colt Brine
Treasure: Treasure Chest
Appearance
Treasure is a classic seahorse with a red-orange body and dorsal fin. His mane is golden, as well as his unicorn horn. He is often seen wearing a jewel-encrusted necklace.
Personality
Treasure enjoys shiny things and hunts for them to adorn his castle.
Magical Gift
He is a seahorse, of course! He can breathe underwater and has an uncanny ability to find treasures.
Inspirational Message
"Follow me beneath the waves. See the beauty and the space."
Gallery